Security Studies Summer Institute for HBCU Students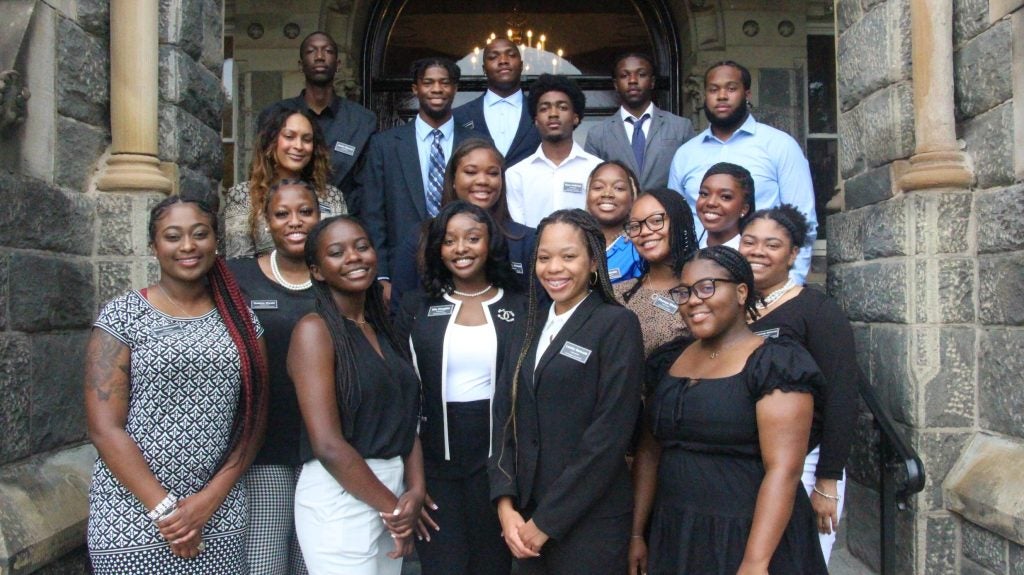 Whether you follow security issues consistently or are just dipping a toe into the field, Georgetown's Security Studies Summer Institute is designed to give you a small dose of what it means to study and work in the field of security studies. This program is intended to help expand the diversity of perspectives and ideas in the national security field by increasing awareness of and access to graduate education and career opportunities in security-related fields for HBCU students.
Fast Facts
Dates: June 9 – 15, 2024
Location: Georgetown University, with site visits across Washington, DC
Eligibility: Current sophomore/rising junior at any HBCU
Cost: None! All expenses paid, plus $600 stipend
Application Deadline: Wednesday, January 31, 2024
Camryn Agee, North Carolina Agricultural and Technical State University

"This is like a once in a lifetime opportunity for a lot of people, […] a lot of very high-ranking individuals that look like us. It was kind of surreal."
Joi Eubanks, Alabama State University

"Every day we were able to learn about security-related topics and also about the people who dedicate their time to make an impact on national affairs for the United States,"
Sydney Davis, North Carolina A&T State University

"I was able to meet so many people similar to me and what I want to do in the future. I had never met someone interested in International Affairs, analytics, or even a native English speaker fluent in Chinese before this program. I will use these connections and resources to pave the way to a career in national security."
Isaiah Barber, Howard University

"Although we were all HBCU students, we each came from diverse backgrounds and brought a unique perspective and set of experiences. Engaging in conversations with my peers about their career aspirations and thoughts on national security was invaluable […] Despite our differences, we all shared a common drive and passion."
Landry Samuels, Tuskegee University

"[Future students should] consider applying for this program because it will allow you to gain experiences, opportunities, and connections that will enhance your interests; and it will help guide a sense of direction for your future career. In addition, the program allows you to envision yourself as a future professional and leader."
Janan Hackett, Virginia State University

"I can honestly say that everything about the program was captivating and I would do it again, even without the stipend. The experience was definitely one to remember and an eye-opener for me."
Program Goals and Outcomes
The goal of the Institute is to spark interest in any number of broad-ranging security topics such as national defense, international security, intelligence, foreign policy, terrorism and counterterrorism, and technology. All travel, room and board, and related expenses for the week-long Institute on Georgetown's campus will be paid for by CSS.
You will walk away from the week with:
Familiarity with key processes, themes, and players in the security realm
The ability to think critically about the fundamental issues of security
Exposure to career and internship opportunities in the DC area
A new network of peers, academics, and security professionals
Program Details
The Institute will take place June 9 – 15 at Georgetown University's main campus in Washington, DC. Over the course of the week, you can expect a mixture of:
Presentations and seminars with faculty from Georgetown's Center for Security Studies
Open discussions with professionals currently working in key private- and public-sector security roles
Field trips to relevant museums, historical sites, and organizations in and around Washington, DC
Group and individual career guidance from the School of Foreign Service Career Center
The program is free to students and includes housing and meals on campus, all travel to and from Washington, DC, and a $600 stipend for the week. While the Institute does not offer academic credit or assign grades, it will appear on a Georgetown transcript as a non-credit course.
Who is the Institute for?
Most students apply in their sophomore year at an HBCU and complete the institute during the summer before their junior year. The only other requirement is an interest in the national or international security field. This program is appropriate for all majors and backgrounds. There are no prerequisite courses or work experience, and the content will be tailored to the cohort of students based on their applications and interests.
Application and Admission
Applications are due by 11:59 p.m. ET on Wednesday, January 31, 2024. Applicants must submit the following:
One letter of recommendation from a current or past professor, to be uploaded here by the writer
A one-page resume
An unofficial college transcript
An application form, including responses to both of the following prompts:

Describe your interest and/or background in security studies and your interest in the Summer Institute.
What area(s) of security are you interested in learning more about? Briefly describe why you are interested in these areas.
Written responses should be 250-500 words and should display a sincere interest in the security field, strong writing skills, and an understanding of how the Summer Institute will fit into your future plans.
Applications will be reviewed for completion upon receipt. Following the application deadline, all applicants will be notified of the admissions committee's decision by February 12. Please do not call or email regarding your decision status prior to that date.
Learn More
If you have questions about the program, contact us at sspsummer@georgetown.edu.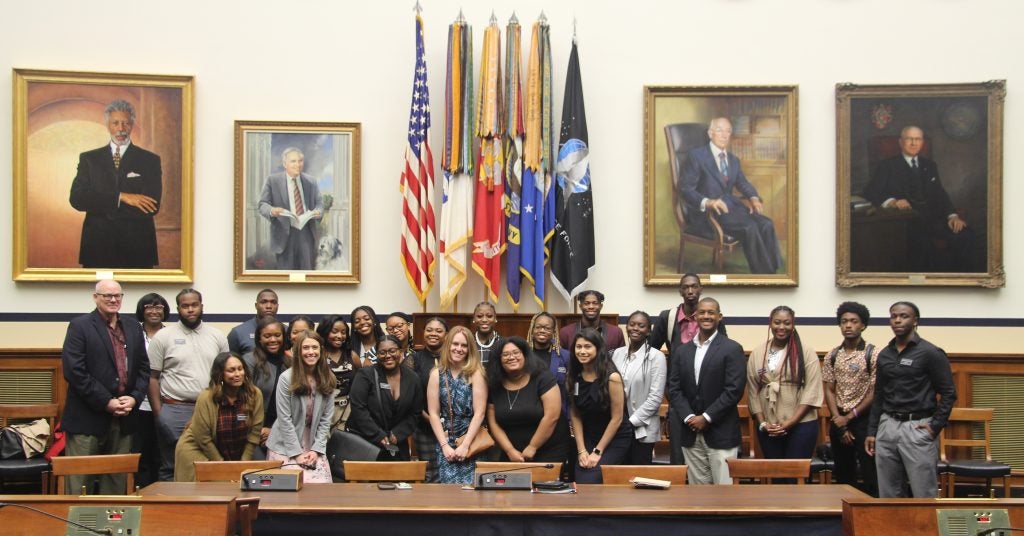 Frequently Asked Questions
I'm a college freshman/junior/senior. Can I apply?
The program gives a strong preference to rising juniors (those who apply during their sophomore year), but exceptional candidates from other years will be considered. You may apply if you:
Are currently enrolled as an undergraduate at an HBCU, and
Will not graduate on or before July 1, 2024, and
Will be 18 or older by June 9, 2024.
Spring 2024 graduates are not eligible, nor are students who will begin college in Fall 2024.
I'm in high school. Can I apply?
No. All applicants must be current college students.
I'm a currently-enrolled college student but am not sure if my university is eligible for this program. Can I apply?
All students who attend an accredited HBCU are eligible to apply. Please review this list to confirm your university's eligibility.
How should my professor submit their letter of recommendation?
Professors should upload their letter of recommendation here. Letters must be submitted by faculty—students should not upload letters on their professor's behalf. The submission form requires users to sign into a Google account, which can be either a personal Gmail account or a Google account provided by an employer/school. If a recommender does not have access to a Google account, they should contact us at sspsummer@georgetown.edu.
When does my professor need to submit their letter of recommendation?
Letters of recommendation must be submitted by 11:59pm ET on Wednesday, January 31.
Should I submit my application first, or my letter of recommendation?
It does not matter in what order you submit your application materials, as long as both the application form and the letter of recommendation are submitted by the deadline.
Can you confirm that you received my application?
Due to the large number of applications, we cannot confirm the receipt of individual applications. You will automatically receive a copy of your submitted Google Form via email, which serves as a confirmation of your application.
Can you confirm that you received my letter of recommendation?
Due to the large number of applications, we cannot confirm the receipt of individual letters and encourage you to check in with your recommender to find out if it has been submitted. The letter submission form will automatically send a copy of the submission via email to the submitted, which serves as confirmation that the letter has been received.
I submitted my application but want to change something. Can I resubmit it?
No. We encourage you to review your application materials carefully before submitting them, as we are unable to allow changes after submission. We review all applications only after the deadline passes, so there is no advantage to applying earlier.
I can't access the application form.
The application form requires you to sign into a Google account, which can be either a personal Gmail account or a Google account provided by your school. If you do not have access to a Google account, contact us at sspsummer@georgetown.edu.
How are applicants selected? Are there specific requirements?
You do not need to have a minimum GPA, specific coursework, or work experience. Applications are reviewed by a team of Summer Institute faculty and staff. Applicants are selected based on their expressed interest in the security field, academic achievement, and communication skills. We aim to select a cohort that includes students from a wide variety of backgrounds, majors, and schools.
I can only attend part of the program or have remote commitments during part of the workday. Can I still apply?
Because of the intensive and selective nature of the program, we require all participants to be present for the full week. Upon acceptance, students will be asked to confirm that they have no other commitments the week of the program, including remote jobs/internships or online classes.